'Ultra' Bass Fit and Measurements
The new Tuff-Lite Ultra Bass Case, is made and designed to fit and accommodate the average, 3/4 size bass. This size encompasses about 85-90% of the basses now played throughout the world.

The Ultra Bass Case Exterior dimensions: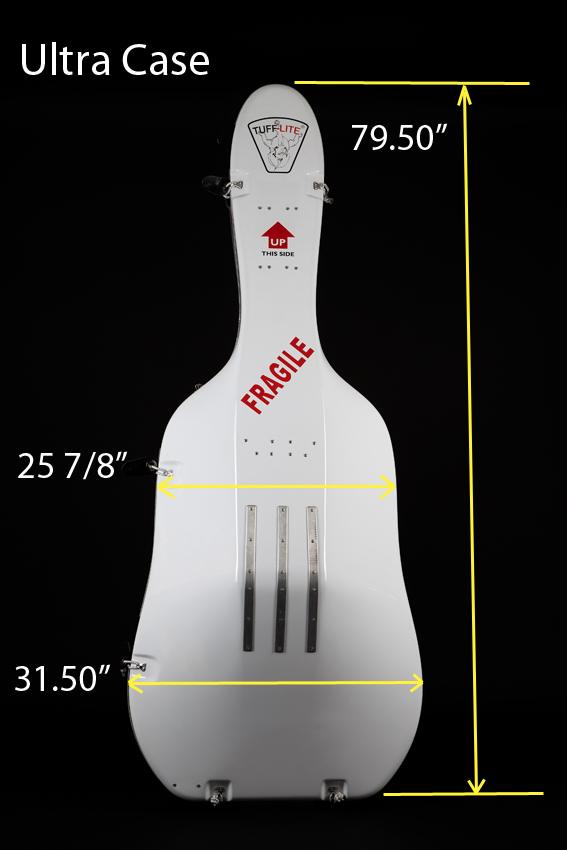 Below are measurements of the exterior of the case and below it, the interior showing a typical 3/4 size bass. This one, a Wilfer 3/4 bass, with a lion's head scroll. There is still quite a bit of room on each side of this bass, especially the upper shoulders. The average 3/4 size bass, is usually around 19 1/2-20 across here. On this particular bass, it is on 19 1/4" and plenty more room to fit a good sized, 3/4 bass into this case. On this particular day, we chose to only photograph the bass inside without a cover, but there is some room for a padded cover. Just how much, will depend on the bass and the cover, but we have been told that the typical Deluxe (Mooradian or Tuff-Bag) cover will fit with a normal 3/4 size bass. In the near future, we hope to made a special, light and thinly padded cover to sell with the new cases and to use for trips and/or shipments in the case. The interior photo also shows how the long, felt pads fit under the plastic buckles when fitting a bass in, without using a cover. The best and safest way to pack a bass in the Ultra case, is while the empty case is laying on its back. This way, there are no unseen gaps behind the bass and the case so the player knows that the bass is seated 'all the way in' the back of the case.